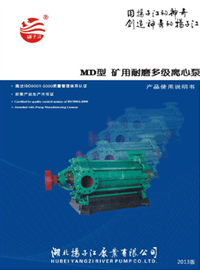 Standard: MT/T114-2005 multistage centrifugal pumps for coal mine,& etc.
Features
Our MD series wear-resistant single-suction multistage centrifugal pump used for mine application features high efficiency, high immunity to cavitation, compact structure and reliable service. Its critical parts are produced by the wear-resistant alloy material that secures a longer service cycle of the pump. A wear monitor for the balance system monitors wear conditions of the balancing pair to ensure that the pump is working in its optimal conditions.
Application
Designed to drain water in all kinds of mines, especially to delivering poor-quality water containing a little coal dust, sediment or weakly corrosive liquid, and other similar sewages & etc; also applicable for water supply and drainage of cities and factories.
Parameters
Discharge: 6.3~700m3/h
Head: 50~1500m
Maximum efficiency 82%;
Maximum rated power: 4500kW
Maximum liquid temperature: 80℃