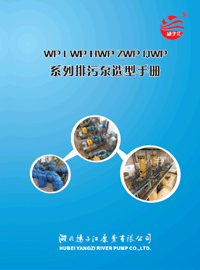 Standard: GB/T2816-2002 Submersible pumps for deep well
GB/T13008-2010 Mixed and axial flow pumps: Technical specifications
Features
OWP (Z/H) pump is a new product derived out of the traditional axial-flow pump-motor unit. The integrated pump-motor construction allows operation underwater and provides a number of remarkable merits:
1) The pump is able to work in water, which greatly saves civil construction and installation area, minimizes the noise level and improves the working environment;
2) Electrical-mechanical integration allows easy and quick installation;
3) Easy operation that eliminates the need to lubricate the rubber bearings of the pump before startup and full option for remote, automatic control; and
4) Energy efficiency and low operating cost.
Application
Designed to deliver liquids containing solid particles or fibers, and extremely dirty, sticky or slippery liquids; applicable for delivering storm/sewage at urban or rural water (waterlogging) drainage pump houses (stations) or enterprises, and for agricultural irrigation,& etc.
Parameters
Head: 1.2~16.8m
Discharge: 190~38430m3/h